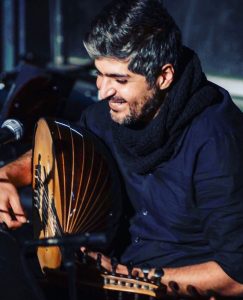 Sardar Mohamadjani was born in a Kurdish region of Iran called Mahabad on July 19th, 1978. The inherent infatuation of art and music among Kurds appeared in him in a way that he chose the tar as his primary musical instrument and started learning it at the age of 10. In 1997 he left his city of birth, Mahabad, to pursue his passion and interest in music by studying at the Tehran University of Fine Arts. While studying under the supervision of esteemed musicians Mr. Daryosh Talaei and Darvish Reza Monazami, he took an interest in playing the oud (lute) and started learning this instrument alongside the tar, and in a short time he was able to advance to an expert level.
Besides being a student in university, he closely worked in the National Media of Iran and this collaboration continued until one year after his graduation in 2004.
At this time, he moved to France to continue his musical education by choosing to study Ethnomusicology at the University of Paris. In this city he was acquainted with the Badila band and began collaborating with them, having many concerts in numerous countries such as Germany, Malaysia, Morocco, Lebanon, Tunisia and Algeria. He also worked in the institute Jeunesse Musicales de France (JMF), where children were introduced to music.
After graduating from the University of Paris, Sardar decided to change his country of residence and moved to Toronto, Canada, and has continued his professional career there since then.