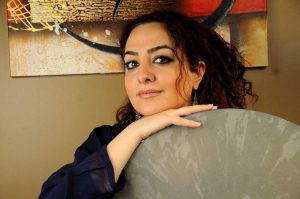 Naghmeh Farahmand Bafi
Tombak, Daf, Percussive Instruments
Naghmeh Farahmand is a Persian percussionist who comes from a musical family. She is the daughter of one of the leading percussion masters of Iran, Mahmoud Farahmand. Naghmeh grew up surrounded by music in a full house of drums.
Naghmeh showed great interest in rhythms during her childhood and started playing the tonbak when she was 6. While learning the rhythmic patterns of Persian traditional music under the supervision of her father, she was encouraged to learn a melodic instrument to gain insight into the melodic aspect of music as this would make her a better accompanist. So she started playing the santoor under the guidance of Faramarz Payvar and Pashang Kamkar. Besides learning traditional music, Naghmeh found the daf to be very powerful and spiritual and began learning Sufi and Kurdish rhythms on the daf from Bijan Kamkar and Masoud Habibi.
Naghmeh has performed in many well known Iranian traditional bands in Iran and festivals around the world in places such as Germany, Switzerland, Japan (Min On Festival), France (La fete de la music), Italy, Kuwait (Women festival), Austria, and London. She was honored to perform with Hassan Nahid, Iranian master of the ney and Hengameh Akhavan, a famous singer of traditional music for years.
In n 2010 Naghmeh moved to Canada and started working with world music, Arabian, Bulgarian, Turkish, Indian and also Jazz. She has been teaching in different music institutes for 15 years and has taught master classes and workshops around the world.
Naghmeh founded a percussion ensemble (Sharghi) while collaborating with Iran's national TV and recorded numerous pieces and performed live for a decade. She is also skillful in playing darbuka (doumbek), dayereh, cajon, udu and drumset. She has published a book, Helheleh, that includes some pieces for the daf and is currently publishing her percussion CD, Drums&Dreams.