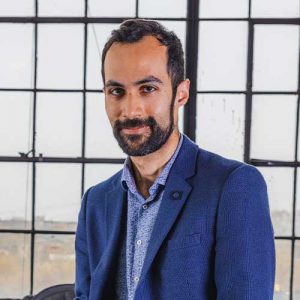 Iranian-Canadian violinist, Bijan Sepanji is one of the principal architects behind The Black Fish project. Together with his quartet, The Ton Beau, Bijan commissioned Keyan Emami in 2019 to compose a multi-genre piece inspired by the story of The Little Black Fish by Iranian author, Samad Behrangi. In November of 2021, Bijan lead the recording project of The Black Fish with a number of outstanding musicians, recording engineers and producers. The Black Fish album is set to be released in September 2022.
As a member of the Ton Beau String Quartet, Bijan has performed across Canada and the USA. Locally, he performs regularly with the Toronto Concert Orchestra as well as with Sinfonia Toronto and Esprit Orchestra. Prior to the pandemic, Bijan had the chance to perform on an extensive tour of China in 2019, spanning from the north to the south.
Bijan is also a passionate educator whose students have been accepted to the University of Toronto to pursue music professionally. As well, Bijan conducts the Mooredale Youth Orchestra in downtown Toronto and introduces the young musicians the joy of making music together as a string orchestra.
Bijan holds a Bachelor's Degree from McGill University, a Master's Degree from Indiana University, and an Artist Diploma from the Glenn Gould School. He plays on a violin made in 2008 by the celebrated Canadian violin-maker, Mark Schnurr.